Top Tips for Effective Audit Execution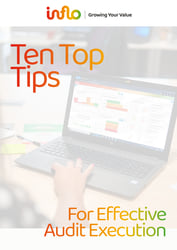 Download the guide now...




and discover how to deliver an effective audit.
The execution phase of an audit engagement is an intense period of activity. Managing teams, analyzing information, executing testing, making judgements, documenting work and interacting with clients.

In busy periods, effective audit execution becomes critical to client satisfaction, profitability and team morale. Challenges in delivering just one engagement can have a domino effect satisfaction around the firm.

This guide has been written to help teams execute effectively and consistently even when busy. It is for auditors striving to improve and add value – for those not satisfied with SALY (same-as-last-year).

These tips and techniques come from our experience over many years performing varied audit engagements. They will help you provide more challenging and interesting work to your

In this guide, we'll walk you through the ten top tips that will help deliver a more effective audit.
OUR TEN TOP TIPS ARE:
1. Better Data
2. Flexible Working
3. Testing Strategy
4. Management Override Controls
5. Revenue Approach
6. External Confirmations
7. Engagement Management
8. Client Reporting
9. Technology Integrations
10. Debrief