for Valuable Audit Planning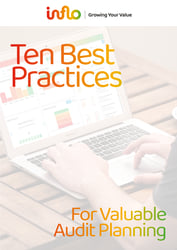 Download the guide now...




and discover how to deliver a new, more valuable experience for you and your clients.
Benjamin Franklin is credited with saying "If you fail to plan, you are planning to fail!".

Few people understand this better than auditors, with planning an engagement a key part of our work. However, with the help of the latest technology, there's so much value that can be achieved during the audit planning process.

In fact, you can transform planning work from satisfying compliance standards to driving the delivery of valuable services.

And when the appropriate focus is dedicated to planning an audit engagement, the experience for both your team and the client are completely transformed. Simply put, it leads to a more effective, higher quality and all-round more valuable engagement.

In this guide, we'll walk you through the ten simple changes you can make to the audit planning process that will help deliver more valuable outputs to your clients in less time.
OUR TEN BEST PRACTICES:
1. Tailored Information Requests
2. Digital Collaboration and Workflow
3. Access to Transactional Data
4. Enhanced Preliminary Analytics
5. Scoping and Assessing Risk
6. Purpose Driven Walkthroughs
7. Front Loading Testing
8. Introducing Other Services
9. Constructive Client Interactions
10. Fees Based on Value