See the Digital Audit in action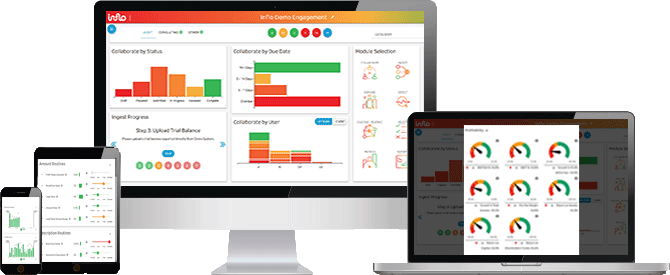 It's time to reset the audit
After years of front-page stories of frauds and business failures, the auditing profession stands at a fork in the road. One path maintains business as usual, and very likely leads to irrelevancy. The other path capitalises on the opportunities created by emerging technologies to reset, reimagine, and reinvigorate our profession – enabling it to thrive long into the future.

It's time for us to choose the right path. It's time to reset public perceptions, the way we perform audits, and how we educate and enthuse the next generation of accountants entering our profession.

At Inflo, we've taken a long, hard look at what the audit needs to look like to have a brighter future. Our customers told us that simply automating what auditors currently do isn't enough. Their aging methodologies just aren't cutting it in the digital world, making it difficult for smaller firms and networks to remain competitive.

So, we decided to think bigger, to take the bold steps needed to help create a digital profession that's equipped to take on the challenges we face in 2020 and beyond.

And now we're excited to introduce the world's first end-to-end Digital Audit platform. A platform that will be accessible to every auditor in every firm in the world.

Welcome to the Digital Audit
At our recent Digital Audit launch event, Inflo CEO Mark Edmondson explained how we're expanding the Inflo platform with a new module – Inflo Workpapers – to cover the entire audit process, from planning and documentation, through risk assessment and testing, to client reporting.

Our Digital Audit solution offers a one-stop shop for accountancy firms. It incorporates intuitive data analytics, a progressive audit methodology developed by our team of audit experts, and an audit platform powered by emerging tech.

The power of Inflo Workpapers is that it makes Inflo Hybrid Intelligence a member of the audit team. It's AI-powered, but humans are in control at every stage. Auditors still use their professional judgment to interpret the findings, review and modify AI recommendations, and make final approvals.

By augmenting human intelligence, skill and intuition with powerful data analytics and advanced AI algorithms, the Digital Audit platform enables firms to:
Drive unprecedented efficiency through standardisation, automation, and the incorporation of emerging technologies
Ensure quality by embedding the audit standards within the platform and using data analytics throughout the audit process
Deliver more client value by offering new insights and differentiating outputs
Levelling the technology playing field
Of course, talking about innovating in the profession is all very well, but that talk needs to turn into action on the ground. And perhaps the biggest barrier to innovation in auditing is the cost of investing in the technology.

Which is why Inflo Workpapers will be completely free.

"We believe that on the journey to a digital audit in a digital profession, every auditor should have access to the essential tools necessary to perform a quality, valuable audit," Mark said. "So, Inflo Workpapers will be a completely free solution. Firms can get access to an innovative audit methodology, in a secure, cloud-based platform environment, available 24/7 on any device, anywhere – for free. We're truly levelling the tech playing field."

Coming March 2021...
Register now to see the Digital Audit in action
Download your free guides today...